What is a Custom Cattle Feedlot?
Custom cattle feeding refers to sending cattle to a feeding enterprise that provides the technology, skills and services to someone who wants cattle fed to a specific market weight. This practice should be considered by ranchers as a means to evaluate the performance of cattle or as a marketing alternative. At times, custom cattle feeding can be a tool to increase the dollar return to a cow-calf or stocker program. At other times, it may be better to simply sell feeder cattle or calves. The rancher should consider custom cattle feeding when it is likely to increase net returns.

What makes our feedlot unique?
At T.J. Crowder & Sons we are feeding and marketing our cattle right along with yours. The care, feed, and dedication we give to our own cattle are the exact same as we provide for yours. We are a cow/calf ranching operation and can relate on this level to our customer base. The marketing concerns of our clients livestock are the same marketing concerns we face.

What services does our custom feedlot provide?
Our feedlot can and will provide all services relevant to feeding cattle. The customer can receive help in purchasing feeders, financing cattle and/or feed and yardage, risk management and marketing of the cattle. Standard services include daily inspections of cattle, bi-monthly economic and growth performance updates and processing and health services.

Is financing available?
Yes. We have close working relationships with banks and the farm credit system. If a customer wants to purchase cattle, generally he or she can obtain a loan for 70 to 80 percent of the cost of the feeder cattle and feed/yardage. If a customer wants to retain ownership in his/her cattle, the lending institution will reimburse the owner up to 70 - 80 percent of the value of the cattle. Feed and yardage will also be financed if the cow/calf operator chooses to.
What happens when the cattle arrive at the custom feedlot?
Each pen is weighed in and weighed out and given permanent identification as to ownership. We discuss in detail the health issues of the cattle with the customer and provide as needed. Every animal is inspected daily for health. Sick animals are separated and are treated through the guidance of veterinarians. We take the health of your cattle just as seriously as we do our own.

What is the selection of cattle per pen?
The growth and economic performance of the cattle are a top priority at T.J. Crowder & Sons. Our success lies in the makeup of the cattle that constitute a pen. We group by weight, body type, age breeding, and previous nutritional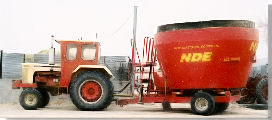 background. As we meet these conditions, we can feed and sell the cattle to achieve optimum feed efficiency and market value of the cattle.

What is our feeding program?
We grow most of our own food corn silage/alfalfa and supplement, when necessary, with the purchase of high quality feed.

How are the cattle sold?
We serve as adviser to the owner cattle. We market cattle on a regular basis and lend our expertise to the customer.

At T.J. Crowder & Sons we will discuss in detail, with the customer, what your needs may be in these areas, and lend our expertise based on these needs.